The Intel Core i5 3470 is a mid-range quad-core processor built on the 22 nano-meter process based on the Intel's power-efficient Ivy Bridge architecture.
The Core i5 3470 processor runs at a clock rate of 3.2 GHz, features a Turbo Boost which can push the clock speed up to 3.6 GHz and it comes with 6 MB of L3 Intel Smart Cache making this  processor designed to deliver great performance. It has an Intel HD Graphics 2500 integrated graphics system which runs at base GPU frequency of 650 MHz with a maximum dynamic frequency of 1.1 GHz. 
Technical specifications:
Model:			Intel Core i5-3470
Number of cores/threads:4/4
Architecture:		Ivy Bridge
Manufacturing process:	22 nano-meter
Socket:			LGA 1155
Frequency:		3200 MHz
Turbo boost frequency:	3600 MHz
TDP:			77W
Bus speed:		5 GT/s DMI
Clock multiplier:	32
Level 1 cache size:	4 x 32 KB instruction caches
			4 x 32 KB data caches
Level 2 cache size	4 x 256 KB
Level 3 cache size	6 MB shared cache
Integrated GPU:		HD2500 
(GPU core runs at 650 MHz, up to 1100 MHz in Turbo mode)
Size:			1.48″ x 1.48″ (3.75cm x 3.75cm)
Weight:			1 oz (27 g) (CPU)
			13.4 oz (380 g) with Fan/heatsink
Below is a screenshot of cpu-z showing an Intel Core i5-3470 LGA1155 processor automatically downclocked to ~1600 MHz when idle to conserve heat and power: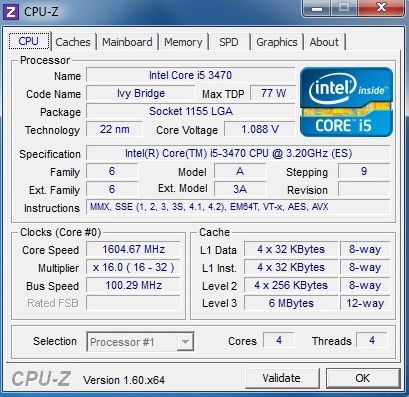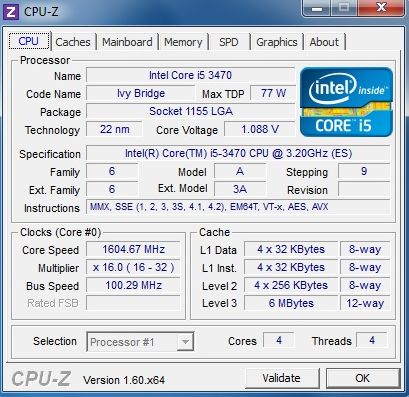 In the synthetic benchmarks, the Core i5 3470 processor was always better than Core i5 2500K and about 30% slower than Core i7 3770K (mainly due to lack of Hyper Threading and somewhat lower CPU frequency).
With a little voltage and base frequency bump and using a multiplier of 40, the Core i5 3470 CPU can easily be overclocked to 4.2GHz using the stock Intel cooler, however it cannot go any higher than that even when using an aftermarket cooler because it is not fully unlocked like K-series CPUs. When overclocked to 4.2 GHz, the performance in benchmark tests and games increased by 10%-15%.
As mentioned above, the integrated GPU is Intel HD Graphics 2500 versus the HD 4000 iGPU which is found on its older brothers: Core i5 3570K and i7 3770K. HD 2500 does not perform well in real world gaming compared to the discrete graphics cards available on the market today. Anyway, if you worry about gaming performance of Intel Core i5 3470 integrated GPU, and you intent to use the Core i5 3470 for your gaming rig, then you will have to pair it with some powerful mid-range or high-range graphics card (6 series graphics cards from Nvidia or the latest Radeon HD 7000-series graphics cards). If you are not in gaming so much, then HD 2500 will suit your daily needs just fine.
One of the main advantages of the Core i5 3470 CPU is lower power consumption compared to its main rivals: Core i5 2500K and Core i5 3570K: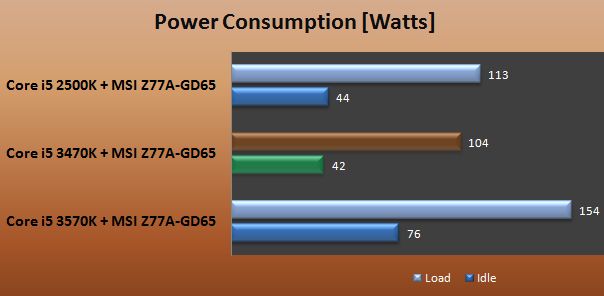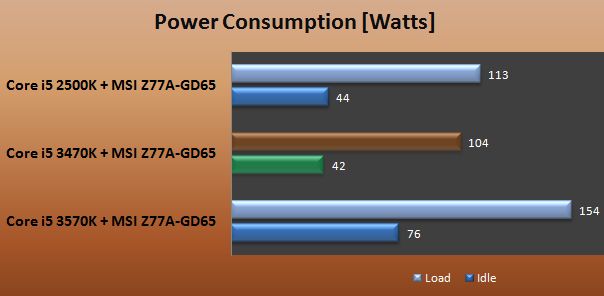 Conclusion:
The Intel Core i5 3470 CPU is a very solid and affordable upper mid-range processor. It is an excellent choice for gamers and enthusiasts looking to build a cutting edge machine on a budget.
Pros:
Good performance
Better than the i5-2500K Sandy Bridge processor
Great power consumption
Cons:
HD 2500 graphics
Locked multiplier
Lack of Hyper Threading
DailyPCreviews Rating:

7/10