AMD introduced the Crimson ReLive Edition drivers about one year ago. Now it's time for a new product, named Adrenalin Edition, based on and after the Adrenalin Rose, which in fact is a different shade of red compared to Crimson. The new driver is version 17.12.1 WHQL and it was released on December 12th, 2017, but it all started much earlier, about 3 years ago, in December 2014, when work on AMD drivers and related software came to a new level. Since then, AMD developers have made more than 70 software releases, implemented more than 50 new features and provided full support for 75 blockbuster games on the day they were released. The drivers have been downloaded more than 250 million times.
The new AMD Radeon Adrenalin Edition drivers bring increased performance in many popular games, including Mass Effect: Andromeda, Tom Clancy's Ghost Recon Wildlands, Overwatch, Project Cars 2, Prey etc. Compared to AMD Radeon Crimson ReLive Edition drivers, using the new Adrenalin edition drivers, AMD Radeon graphics cards provides up to 10-19% performance improvement. You need to take this with a little reserve, because this actually compares the speed of Adrenalin drivers with the very first version of the Chrismon ReLive drivers. In addition, the latency has been further decreased and fine tuned. This is very useful, especially in games like Counter Strike Global offensive where every millisecond matters.
PC gamers with configurations that have two video cards running in CrossFire mode will notice a performance improvement too. For example, in Far Cry Primal, a pair of Radeon RX 580 graphics cards is exactly twice as fast as one RX580 graphics card.
The Radeon WattMan technology has been further refined: now the custom profiles can be saved and reloaded at a later time, even they can be transferred to other PC/Laptop equipped with a Radeon graphics card.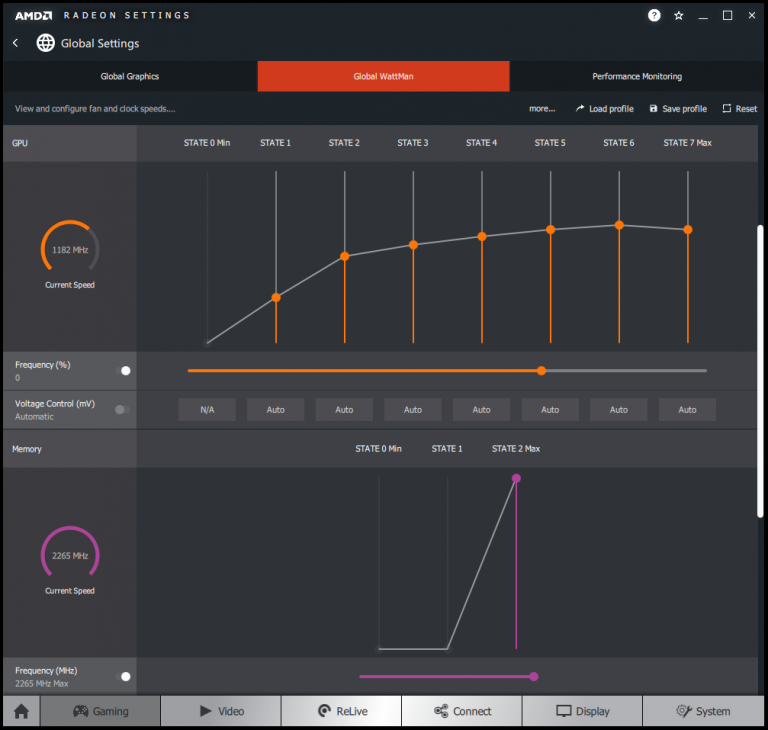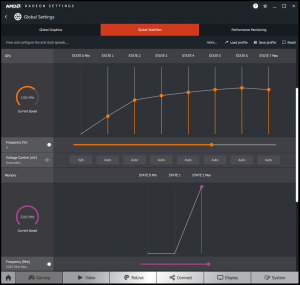 To not forget to mention the use of a special computing mode (Compute Profile) which is very important for Crypto currency miners. Using the new AMD Radeon Adrenalin Edition drivers the performance improvement is about 15% compared with previous Chrismon edition drivers, or in pair with Radeon Software Crimson ReLive Edition Beta drivers for blockchain compute. This results were achieved on a PC with a Radeon RX 570 4GB graphics card while mining the Ethereum crypto currency. The compute mode is available from the Global graphics settings of the AMD Radeon control panel where you could switch towards gaming or compute modes. In order to enable the compute mode, right click on your desktop and select AMD Radeon Settings, click on the 'Gaming' icon from the main menu, then click on 'Global Settings' >> Global graphics >> click on 'GPU Workload' >> select 'compute' and choose 'Yes' for the changes to take effect. According to AMD, about 1.9% of owners of AMD Radeon graphics cards are involved in the mining, although this is the result of survey submitted by those who agreed to participate in the AMD program to improve the product quality, so the data may be inaccurate.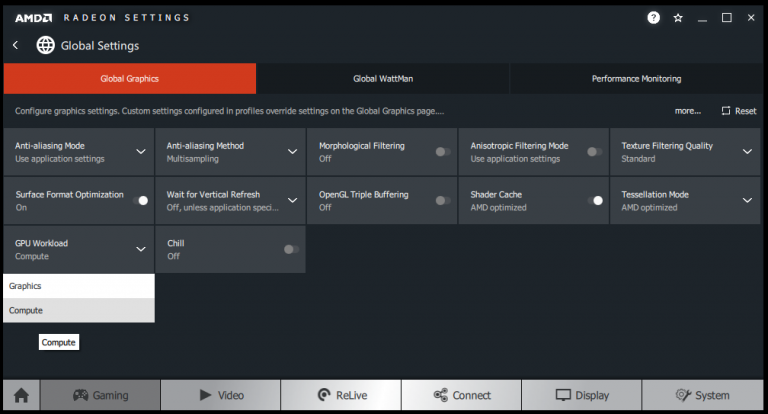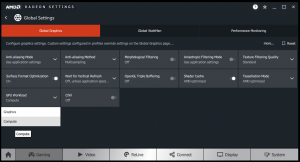 The feature called Radeon Chill will be very useful to all AMD graphics card owners, including the owners of notebooks with AMD Radeon graphics cards. The Radeon Chill has been greatly improved and works in almost all games now. The Radeon Chill power-saving feature dynamically regulates framerate based on your in-game movements, so during peak gameplay, Radeon Chill works to deliver the full frame rate potential of the AMD Radeon graphics, and when the movement decreases, Radeon Chill reduces the gameplay framerate, thus saves power and effectively reduces the operating temperature of the graphics card. As a result, it also improves the battery life of the notebook. According to AMD, this technology saves thousands of dollars to owners of gaming clubs in China who asked AMD to upgrade Radeon Chill to work in as many projects as possible. A pleasant 'side' effect of the Radeon Chill feature is the noise reduction. According to professional cyber sport gamers, Radeon Chill has no effect on the gameplay, so you should not be afraid of lag spikes in a game during critical moments.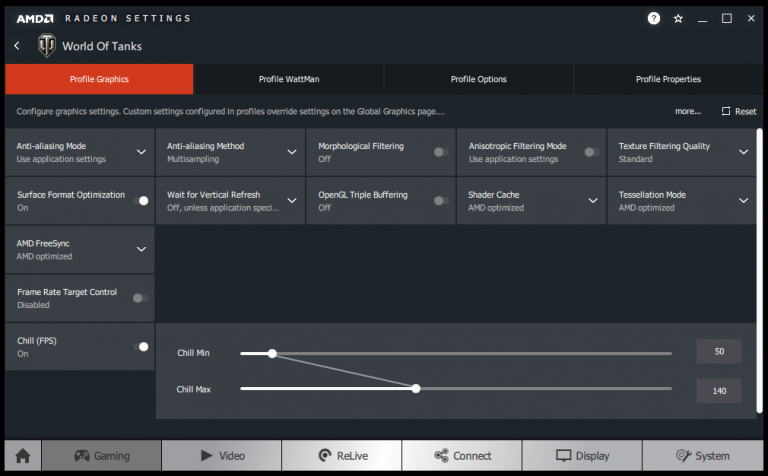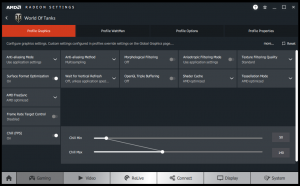 Enhanced Sync is now supported with all AMD products based on the GCN architecture. This includes games based on the Vulkan API, laptop graphics cards, multi-accelerator configurations or displays – Enhanced Sync technology will work in all these scenarios. The Radeon FreeSync technology can now be turned on or off independently for each game.
The new AMD Radeon Adrenalin edition software has benefits when streaming video games. Namely, it is able to provide high-quality broadcasts of games on the Internet. This is available directly through the driver control panel, you can link your accounts to YouTube or Twitch for easy management of live broadcasts of games to the global network.
Also, there is a new application announced with the release of AMD Radeon Adrenalin Edition, called AMD link, available for Android and iOS devices. Using the AMD link application, the smartphone screen can display real-time performance parameters of the graphics card, like temperatures, frequencies, etc. You can make in-game screenshots, and easily share them on social networks.
The new AMD Radeon Adrenalin Edition drivers can be downloaded here.